Join the Booster Club and get a rebate for your team, club, or organized group!
Thank You to our 2017 Kick Off Sponsors
Lisa and Joseph Balcom
Cynthia and John Bartlett
The Buchanan Family
Narine and Chris Butler
Joanne and Stanley Chang
Jennifer and Anthony Chen
Giny and Michael Chon
Lisa and Steve Donahue
Suzanne and Aaron Dyer
Michelle and Bob Fullerton
The George Family
Tracy and Scott Holt
Helen and Aaron Hong
The Jellison Family
Brooke and Dennis Lane
Yvonne and Bill Liu
Sydne and Chuck Michel
Dina and Dave Moll
Lori and Steve Nolls
The Pascal Family
Adriana Popovich
Colleen and Craig Quinn
The Rener Family
Cynthia and Ken Sanders
Lisa and Craig Smith
Rebekah and Carl Swan
Teresa and Karl Sweis
Lisa and Kevin Templeton
Libby and Michael Thomas
3 Friends of Kick Off Party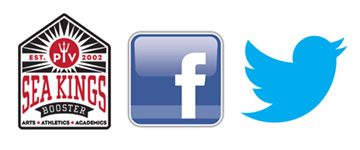 Hello PVHS Booster Club Members! On behalf of the PVHS Booster Board we would like to welcome you back to school! We hope you enjoyed a relaxing break and look forward to continuing an atmosphere of excellence in 2017! We would like to invite you to follow us on...
read more
Your commitment to the PVHS Booster helps fund our Sea Kings coaches and trainers, and what an amazing job our fall sports teams have done. Producing some pretty incredible results, here is a quick recap of how our athletic programs did: PVHS Fall Sports: 7 Teams...
read more
---
Palos Verdes High School Parents:
Welcome current and prospective Palos Verdes High School Booster Club members! To provide a top notch college preparatory experience to our students in a public school context it takes tremendous commitment from our entire community. Thumb through a recent PVHS yearbook and it becomes clear that the breadth and depth of academic and extracurricular activities at our school are second to none and offer our students abundant opportunities to learn and explore just about any interest. The PVHS Booster Club plays an important role in making that happen.
…continue reading
Follow Us on Facebook
Palos Verdes High School Booster Club
6 months ago
2017 Reserved Graduation Seats are Available Now!! - PV Booster Club
Contact: Allison Mayer alipve@gmail.com or 310-936-4446 This is a Major Booster Club Fundraiser!!! This Fundraiser began in 2005 with 1 single row and now we are up to as many as 8 rows and going strong!! This fundraiser had brought in more than $100,000 for PVHS students!!! Now that is a "Parting G...