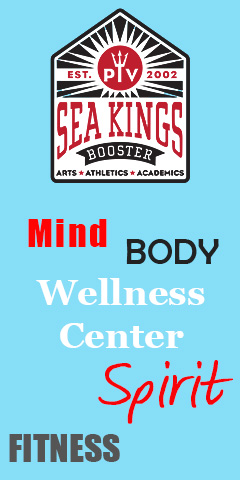 Hello Booster Club Members!
First off, the PVHS Booster Club Board would like to say a big "thank you" for supporting our efforts to make Palos Verdes High School an amazing place for our students. Because of each of you our kids are benefiting in many Sea King ways!
We are very excited about the opening of the new Sea King Wellness Center made possible with the financial support of the PVHS Booster. With elevated levels of stress and anxiety permeating the high school experience, the Booster Club along with the PVHS Counseling Office have started a Wellness Center on campus. The Center will focus on wellness education for students and provide resources to assist them in creating a balanced life. Examples of programs include, free yoga, mindfulness workshops, aromatherapy education, coping skills workshops and much more. In addition the Center will feature expert guest speakers for parents and students on a variety of topics throughout the year.
Please join us for the grand opening and ribbon cutting ceremony on
December 7th, 8:30 a.m. – 9:30 a.m. in the courtyard by the Administration building.
Because of your support of the PVHS Booster Club, our students now have a place to cope with stress, anxiety or just find the balance they need to get through the daily struggles and enjoy their path.
We thank you for your membership!
Go Sea Kings!
Your PVHS Booster Club